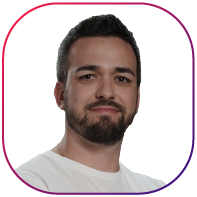 Since I can remember, I've been tech-savvy, and technology has always been a crucial component of all the initiatives and businesses I've started over my professional career. When we founded Thing or Two, we were committed to keeping technology at the forefront, which is why we also developed internal AI capabilities that continually help us improve and optimize our services and business management. But even in saying that, I must admit that I was a little bit unprepared (not to mention a little skeptical) for the AI revolution currently taking place and changing all the game's rules. Here are some thoughts on the impending AI revolution from my perspective as the CEO and co-founder of a company that operates almost entirely online. AI is quickly becoming deeply embedded in organizational culture and many businesses across all industries are adopting it.
AI integration in organizations is expected to be even more significant in 2023, as it will help businesses become more efficient and more accurate in their operational processes.

One of the main advantages of incorporating AI into organizational culture is the ability to automate various tasks and processes. In the design and marketing worlds, for example, AI can be used to analyze customer data and generate tailored advice for marketing campaigns.
This not only saves time and reduces employee workload, but it also improves the accuracy and effectiveness of the campaigns that are currently running. AI can also be used to improve the process of design and development. AI-powered design tools, for example, can analyze user data and make design recommendations based on user preferences and behavior. This can assist designers in developing more effective and engaging products and experiences for their clients.
Another significant benefit of incorporating AI into organizational culture is that it can assist businesses in remaining competitive in a rapidly changing market. Businesses can stay ahead of their competitors and adapt to changing market conditions by using AI to analyze trends, forecast future demand, and optimize operations. To support AI systems and ensure that they are properly maintained and updated, it may also be necessary to invest in specialized hardware or software.
Finally, companies must be proactive in ensuring the accuracy and dependability of their AI systems. This includes conducting regular tests and evaluations to ensure that the AI is working properly and producing accurate and useful results. It is also critical to have strong quality control processes in place to detect any errors or problems that may arise. In conclusion, as businesses seek to automate tasks, increase efficiency, and remain competitive in a rapidly changing market, the incorporation of AI into organizational culture is becoming extremely important.
Businesses can successfully integrate AI and reap the many benefits it has to offer by properly training employees, investing in the necessary infrastructure, and verifying the accuracy of their AI systems.
The AI revolution is real and it is already happening. We take it very seriously here at Thing or Two and we analyze daily how we can integrate more tools to optimize our work and improve the service we provide to our clients. You are always welcome to talk and consult with us.