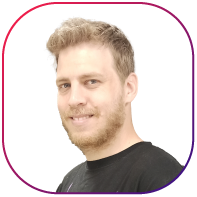 Nir Klar // Learning and Development Manager
The American author John C. Maxwell once said: "Sometimes you win, sometimes you learn". This phrase has escorted me since I can remember myself. Growing up playing chess and mastering the game has put me in a place in which learning is a necessity and not a luxury. I found myself engaged with the world of learning countless times not just for the chess part. I came to the realization that learning is a significant part of everyone's life. Whether it is a new job, a new hobby, or preparing for your final exams in university, your learning skills better be battle-ready.
In my previous role, I was the CEO of an organization that took on the mission of spreading and teaching chess. During these 9 years, my teaching skills have skyrocketed and that helped when I decided that I wanted to teach something that was not chess, This is also when Thing or Two came into my life!
Now, one may ask: "What is the connection between all this to working in the digital marketing world?", and the answer is simple. Nowadays, especially with Gen-Z consisting of around 27% of the workforce globally, things move faster and changes happen rapidly. This phenomenon has several outcomes:
Companies have to adjust to hiring a lot of new employees while losing a lot of employees.
The eco-systems and worlds that companies know so well, can change overnight.
Many companies understand these outcomes and have started putting budgets and emphasis on organizational learning (or organizational development).
Thing or Two is a company that puts its employees on the frontline, having to maintain successful customer relationships while being tech-savvy and knowledgeable about the industry is key to being a successful digital marketing agency. To get to that point, one must be trained and learn properly and rather quickly than slowly, due to the naturally fast pace of the industry.

The Learning and Development department in Thing or Two oversees two main goals:
Onboarding new employees to the company, teach them about the company, the industry, and the technological ins and outs of it.
Training existing employees to improve their skills, have them familiarize changes that take place in the industry or the company, or train them to a managerial position.
The beauty of these topics is that they are not limited. One can really go to the extent of their imagination and there will always be new ways or just different ways to teach a concept.
Practically speaking, Thing or Two built an academy and is a pioneer in the digital marketing world regarding training its own employees (or in other words – On The Job Training). This allows us to have maximum flexibility but is also beneficial in different areas, such as:
Cost saving for external training – Thing or Two does not rely on any outsourcing for Learning or Training.
Flexibility with recruitment – We are able to rely way more on traits and personalities rather than on prior knowledge or skills.
"As clay in the hands of a potter" – We actively "design" the skillset of our employees as to what we want them to have in their arsenal of tools.
Creating a learning environment for the entire organization is a crucial concept as this signals that as a whole we want to learn, adjust, and move forward with the industry in our path to be the best.
Last but not least, having a designated person who seeks to improve others on a daily basis as a part of their job is a major aspect of improving personally and organizationally.
One of the personal objectives I have as the Learning and Development Manager at Thing or Two is to open our academy for everyone. Through that, to gained the ability to reach people who would like to learn what digital marketing is all about. This means that learning would become one of Thing or Two's services and other than generating revenue, it would also allow us to reach potential candidates and have a more effective screening process. This will certainly result in a better, more qualified workforce that would be the turning wheels of our ever-moving-forward locomotive.